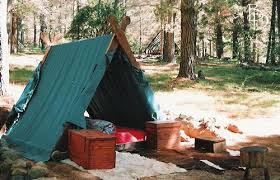 I think most people would agree that one of the best parts about camping is the amazingly delicious camp food. There is just something about the smell of a campfire, and something even more about the taste of the campfire in your food. Whether you cook your food on a gas grill or over the fire, there are so many meals you can experiment with at camp. You don't just have to stick to cans of beans. Unless of course you like beans, like myself. But beans without a burger is just unheard of. Regardless, you will need a nice size cooler to hold all of your foods, drinks and condiments. Something that will last for days while you are out in the wilderness, far from civilization. There is some debate over what exactly is the best cooler for camping, but I would have to agree you can't beat a Yeti.
It's important to also choose wisely when planning your meals for camping. It's best to go with items that are compact and can be easily packed, as well as items that have multiple uses so that you don't get sick of the same meals over and over. Obviously, hotdogs are always a great option. All you need to do is find a stick near your campsite and stick the dog on it. Hang it in the fire, plop it on a bun and dinner is served. Don't throw away your stick though. Of course you will be needing those to roast marshmallows and make smores for dessert. Is it really camping without smores? But that's beside the point, planning for hotdogs allows you to pack light. A small pack of hotdogs can go a long way, and then all that you need are the condiments and bread, both of which can be used for multiple meals. Ketchup and mustard are great for hotdogs, but can also be used for sandwiches and burgers. Bread can be used as a substitute for hamburger buns, as well as sandwiches or even toast for breakfast.
Potatoes are one of those essential items that always comes in handy when cooking at the campground. They can easily be cooked over the skillet for a delicious breakfast, or wrapped in foil and baked for dinner. They are easy to pack and can be eaten at every meal. The same can be said for pasta, my favorite being penne. It doesn't need to be stored in a cooler and is easily cooked by boiling a pot of hot water over the fire. Penne pasta can be used to make macaroni and cheese by melting a block of Velveeta also over a fire. It can be made into a pasta salad by chopping up some vegetables and drizzling it with Italian dressing. Additionally, it can easily be made for a spaghetti night with a jar of Prego spaghetti sauce.
A lightweight snack that is great for camping is popcorn. It packs light and can be cooked over the campfire making it very convenient. Bacon is very versatile and makes great camp food as well. If you have a skillet you can cook it over the fire, eating it for breakfast with your eggs or to make BLTs for lunch or dinner. You can even use the bacon in your baked beans to add some flavor. Bacon is one of those things that not only goes for everything, but everyone likes it too.
Cooking while camping isn't just essential, it can actually be a lot of fun. I've eaten some of the best meals by cooking it over a campfire and it is the one reason I love to camp. The important thing is to plan appropriately and pack lightly. Have a good cooler that will last and keep your food cold while being out in the wilderness. And make sure you don't forget anything, because once you have set up camp, you will not want to have to trek back to town for that one little thing you missed.